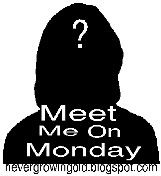 Well I'm here. Better late than never. I would have added my link yesterday but life with 3 kids (4 if you count the husband) gets busy on Sundays. There is Church, Family time (usually lunch out with the in-laws and a fun thing the kids pick), making sure homework is done, finishing forgotten math homework, and so on. I love my life. So since I'm here lets get on with it shall we :o)
1. What is your favorite kind of fudge?
Just plain chocolate!
2. Is there snow outside your window?
No thank goodness but I can see the snow on Mt. Rainier
3.What is your favorite meal of the day?
Dinner without question. It's our family time. Hubby is home and we all sit down together and talk about our day.
4. Do you text on your cell phone?
Constantly
5. Waffles or pancakes?
Depends on the day really. I like both.