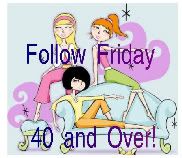 It's Friday and I am linking the Java and her wonderful blog. This follow Friday thingy is so much fun! I've missed it.
First let me say a great big thank you to all of you who commented on my previous post. Thank you Saimi for the welcome back! It feels good to be back.
I have had a mommy free day today. My beautiful MIL took my 2 youngest kids for the day and picked my eldest up from school and is going to keep them over night. I LOVE my inlaws. They are awesome. So I called hubby, who is equally as awesome, and told him that we suddenly find ourselves kidless. I think he dropped the phone. Seriously, I heard a clunk, then he asked a silly question, "what did you do sell them off" I never laughed so hard. Scary thing is...how did he know. Hmm.
ok ok I really wouldn't sell my children. Then again, on the right day, to the right buyer...nooooo lol
So I called up a couple friends, who I think forgot who we are, and set up a little get together at a fantastic restaurant. We haven't been out with adults in a long time. I'm not sure I remember how to talk adult talk.