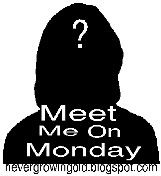 Good morning fellow bloggers out there.
As I posted Saturday, Yesterday was my birthday and I was a little frightened by what my husband had secretly planned. Well let me put your minds at ease. It was a wonderful day. Obviously I lived through it. Ha ha. My children woke me up with lots of hugs and kisses. We went to church. Then we went and had a wonderful little lunch with my inlaws and some friends. A great time was had by all. My inlaws kept all 3 kids for the rest of the day so Danny and I could have some alone time to kick back and relax. So we played tourist in Seattle. WITH NO KIDS!!! It was a great birthday. It reminded me of when we were first dating. Only we lived in San Diego then.
Anyhoo, on to Meet Me On Monday!
1. What are you wearing right now?
Well it's 4:45am so I am in my jammies.
2.Do you have any freckles?
nope
3.What is your favorite Lifesaver flavor?
Cherry
4.What was the last movie you saw in the theater?
Harry Potter and the deathly hallows
5.Would you rather live without tv or without music?
Tv for sure.