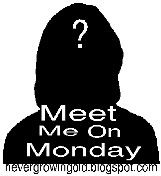 I'm adding mine on Sunday as usual because you just never know what Monday will bring lol.
1.What do you normally eat for breakfast?
Usually I have a bagel and coffee. Once in a while a cup of yogurt with it.
2.
What kind of car do you drive?
A Volkswagen Routon
3. Have you ever met a famous person(s)?
Nope
4.What is your favorite ice cream flavor?
Ben and Jerry's Chocolate fudge brownie
5.Which TV channel do you watch the most?
Depends on the night. Usually USA or TNT.