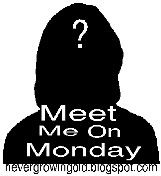 I'm doing this a little early because who knows what I will be going tomorrow lol.
I'm loving these little blog hop thingies.
I hope some of you followers will jump on board for this one. It's fun and hosted by the loverly Java over at http://nevergrowingold.blogspot.com/
Come play with us.
1. What is your favorite Fast Food Restaurant?
Del Taco!!!!!!!!! Ever since I was a kid
2. If given a complete freedom to start afresh, what profession would you choose and why?
Hmm I haven't thought about it but I love my current profession as a SAHM. I don't think I would want to change that
3. Do you prefer your toilet paper to come over the roll or under the roll?
It has to roll over the top. If Dh puts it on backwards I fix it lol.
4. What was your favorite tv show as a child?
I think I have to copy Java's answer and say Little House on the prairie and Three's Company
5. What is your favorite Summer drink?
Iced Tea