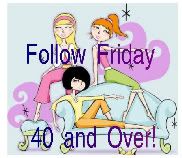 Afternoon Ladies!
I missed last week so I wanted to hurry and get my things done today so I could come here and play with you all.
How is everyone? I've had a busy couple of weeks. Last week DH was in a car accident on base. He is feeling much better though. Thank the Lord above he wasn't hurt seriously.
Today we sent our eldest daughter to camp for 2 weeks. I think I

embarrassed

her a little. It's her first time away so naturally I cried my eyes out. I think it was worse than leaving her at school for the first time. She, on the other hand, couldn't wait to get on the bus and get away from mom and dad for 2 weeks. It's church camp so I know she will be well taken care of. It's just the idea that she's away from ME! Usually isn't it the kids that have separation issues? Not in this case. I barely got a kiss goodbye. I try to hold on tight at this age, 9, because I know from experience, having been a teenage myself once, that in 4 short years it's all over. She'll be 13, a teenager, and mom will cease to exist. Sigh.
My 2 year old doesn't really know what is going on. All she knows is sister got on a big yellow bus and rode away. She clapped. It was funny.
So I've been busy getting her ready. As I said in yesterday's post.
Today I was making a mental list of all that I do and all that I am. The list is long. I am...
A wife, mother, daughter, sister, friend.
A

Governor

, law enforcement, Dr, Nurse, psychologist and peace keeper
A cook, housekeeper,

chauffeur

, secretary, and secret keeper
A Christian, faithful church attendee, a servant of God, and a

Disciple
Wow..No wonder I'm so tired at the end of the day. I wouldn't trade it for anything the world.