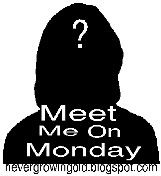 Here is a little about me.
Questions:1. What kind of computer do you blog on?
I use a new Dell laptop. Inspiron something or othere
2. Do you wear perfume?
If so, what kind?
I usually just wear body sprays from bath and body works
3. What do you do for a living?
I'm a SAHM. I take care of 3 kiddos
4. Do you have any pets?
If so, what are they?
do kids count? ha ha we have 3 little dogs
5. Are you going anywhere for Summer vacation?
If so, where?
no specific plans for a long vacation. We have a little retreat up in the mountains we go to on weekends