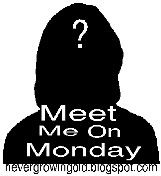 Questions:
1. Are you a collector of anything?
I don't collect anything specific but I have a lot of books.
2. Do you have any tattoos or piercings?
I have several piercings and a couple tatoos. One ear has 4 piercings and the other has about 9. I don't fill all the holes like I use to. My tat is 2 butterflies and a cute little frog with my kids names.
3. What is your favorite salad dressing?
Lighthouse homestyle ranch or a really good italian
4. What was the last thing that you ate?
A cup of cherry flavored italian ice.
5. What was the last movie that you saw?
In the theater? It was so long ago I think the last one was Harry Potter and the half blood prince. At home hubby had xmen wolverine on yesterday